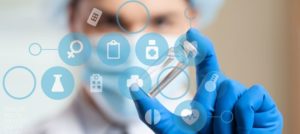 The world is becoming "smart". The massive expansion happening in the Internet of Things (IoT) facilitating the smart world implementation is largely depending on improvements in machine to machine communication (M2M) and a heavy use of sensors.
RFID Technology is also a part of IoT, utilizing sensor technology for myriad of applications. With battery and microchip already inside the tag aiding the communication over RF, adding a sensor is a no-brainer. What used to be a domain of active RFID tags, carrying various sensors due to their battery power, is now being also implemented by the semi-passive or battery-powered tags (BAP), which can be obtainable for lower cost but usually have a bit shorter read ranges.
BUT WHERE WOULD THE RFID WITH TEMPERATURE TRACKING BE USED?
TEMPERATURE TRACKING IS OR CAN BE IMPLEMENTED IN:
Cold supply chain for produce, pharmaceuticals, or transplants, to prevent spoilage and to protect quality and safety
Safety – people temperature tracking to protect against heat stroke on construction sites, oil & gas sites, or during sports.
Construction – tracking temperature of concrete during curing.
 And other applications.
So how does this work?
Temperature logging tags are attached to a tracked item, to its case, container, or truck door, or are embedded inside a product. Once the product is dispatched, the tag starts logging the temperature from its thermistor and saves it to the user memory. After the product is received, the tag ID and the temperature log is read by a reader, data is uploaded to an application and this application provides a temp log in form of a graph, as well as various reporting features.
However, not all temperature tracking systems and applications are the same. There are many differences not just in the hardware but also in the software. Let's discuss the hardware first.
TEMPERATURE LOGGING TAGS CAN BE FOUND IN TWO MAJOR FACTORS:
 RFID Encapsulated tag with an embedded thermistor
 RFID Encapsulated tag with the thermistor embedded in an external probe
Tags with external probes are used for tracking RF blocking items that would normally disable the RF communication or for items where the tag is too large to be attached, while a much smaller probe doesn't have the same problem. Sometimes, using the probe can be slightly more accurate and faster as the tag with internal thermistor first has to warm up or cool down its body in order to affect the thermistor inside. However, both of these types of tags work the same way by logging the external temperature into its user memory.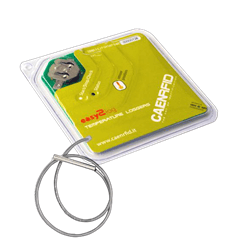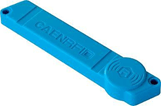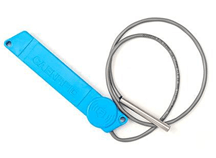 Based on the tag's protocol it can be read by an appropriate reader. Most BAP tags today, take advantage of the EPC Gen2 protocol and therefore can be read by any Gen2 reader. These can be in various form factors, such as fixed portal reader, handheld, vehicle reader and others.
From the software side, RFID4U has developed a temperature tracking application, based on its cutting-edge sensory adaptive network platform TAGMATIKS, which is cloud-based and provides users easy access to the tag temperature and product data over the Internet. How does the system work?
First, the tag is commissioned, and its EPC or tag ID is associated with a product from a database. When the product is ready to ship, the temperature logging is turned on and the tag is registered as shipped by the shipping portal reader.
Once the product is received, it is read by a receiving reader and its temperature data is uploaded the system. The user logs into the RFID4U Temperature Tracking Application through a browser from any location and can immediately view the product's pedigree, the shipping location, time and temperature and a temperature log from the point of shipping to receiving as well as color coded product/tag status. The system also creates alerts, if the temperature exceeds the preset values, which are shown on the screen or can be emailed or sent by SMS to the users or management. The user can immediately evaluate the temperature throughout the shipping and handling process and can accept or reject the order based on this data.
SO WHAT DATA DOES THE APPLICATION SHOW?
 The Mean Kinetic Temperature (MKT) (calculated value based on temperature fluctuations during storage or transit of perishable goods)
 Remaining Shelf Life (the length of time that perishable items are given before they are considered unsuitable for sale or consumption)
 Battery Status
 Temperature vs. Time Graph
 Memory Status
 Estimated Time of Arrival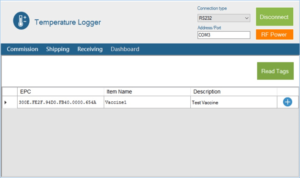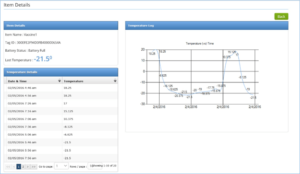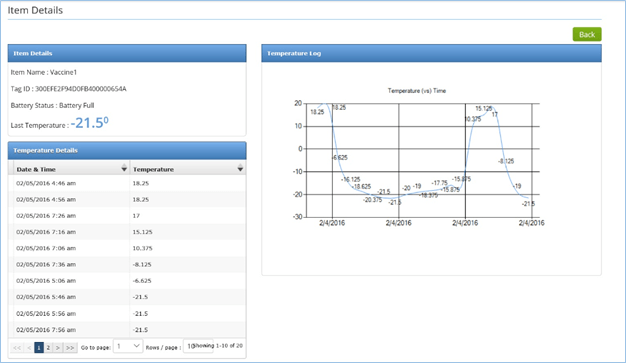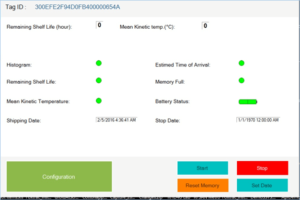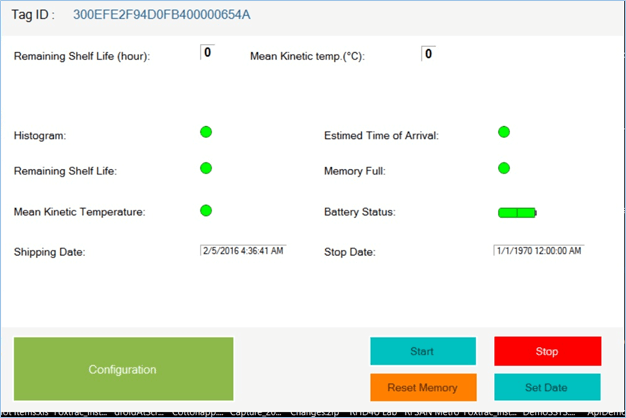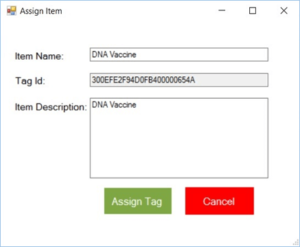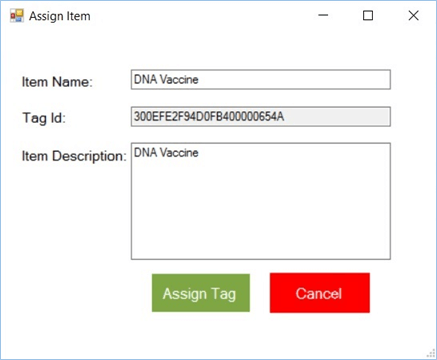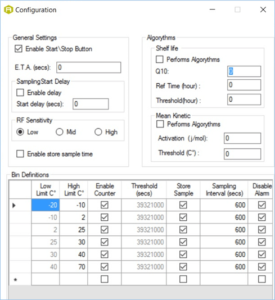 BENEFITS:
RFID4U TEMPERATURE TRACKING SYSTEM HAS SEVERAL BENEFITS:
 Cloud application accessible anytime, anywhere, from any device connected to the Internet
 Option for desktop and/or mobile app
 Product status during shipping, staging and storage
 Alerts on temperature variations over certain limit
 Reports with selectable data granularity
 Easy to see temperature throughout the logistic process, as well as shelf life, location, battery status, memory status, product information, and other data.
Let us know how we can add more visibility, efficiency and safety into your business through our cold supply chain or temperature tracking solutions! Contact us!
Suggested reading: