ABOUT US
Careers
RFID4U is always looking to add to our team of talented individuals. If you'd like to join us, please check out our opening positions below. At RFID4U, we are all about culture – we believe in collaborative and innovative working environments to make a long lasting impact through technology.
RFID4U believes in collaboration…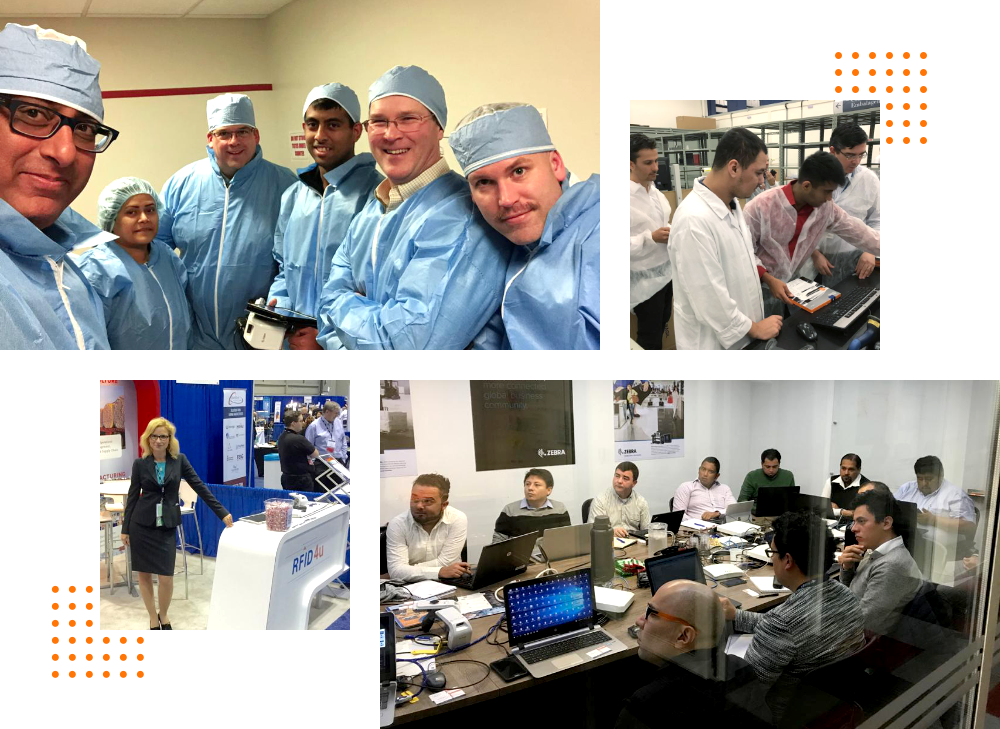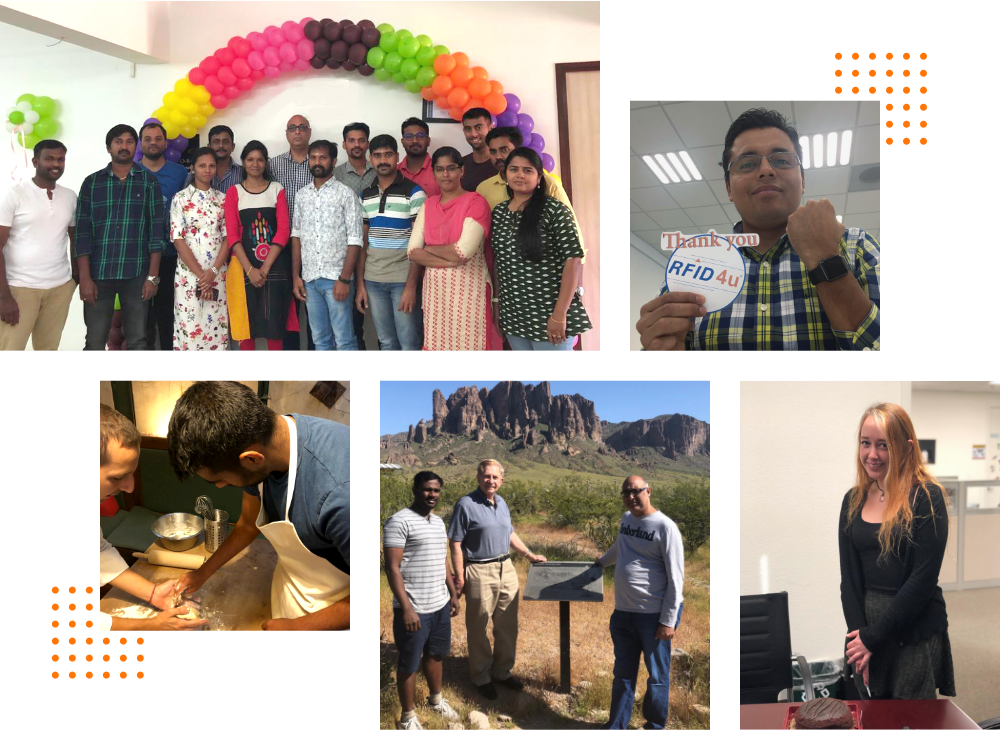 …While taking the time to build culture.
Jobs
Technical Support Manager (Gurgaon, India)
Location
: Gurgaon, India
Job Type
: Full-time
As an integral part of RFID4U support team, this role is responsible for providing application and technical support to end users over a variety of issues on primarily our industry leading TagMatiks application suite.
This role will also help with training and documentation of these tools to internal stakeholders. This role will require working with various multi-national groups and time zones. This is a leadership position with additional support personal working together to meet these objectives. It will require on call shift schedules to support the team in achieving global coverage.
Job Responsibilities
Managing, leading, and overseeing the TagMatiks Gurgaon Support team.
Responsible for the overall support process, adherence, communication, and quality of the group.
Provide support group metrics, status, and escalation as needed.
Responding to telephone calls, email, web meeting and other requests for application or technical support.
Solving requests directly or performing triage of requests to determine the nature of the issue.
Tracking and monitoring the request to ensure a timely resolution.
Conducting follow-up activities with end-users in the form of emails, web meeting messages and/or phone calls to close out requests.
Utilizing ticketing systems available to log issues and track them until resolution; effectively closing tickets.
Distinguishing between application and hardware problems or RF Physics limitations. 
Supporting TagMatiks end users in the form of verbal instructions and/or live demonstrations (Perform individual or group trainings if needed).
Resolving problems, duplicating end user issues, troubleshooting, and escalating problems as needed.
Interacting with people on all levels of the organization domestically and internationally.
Troubleshooting complex problems and providing suggested solutions Identifying and requesting appropriate information/documentation from end-users to resolve requests.
Differentiating between support requests and requests for new functionality and handling appropriately.
Developing and maintaining a detailed knowledgebase of the application issues and resolutions.
Occasional application testing prior to release or for issue validation.
Bringing the end-user perspective and contributing to the application vision of our internally grown application suite.
Providing a heartbeat perspective on the end-users and how they are using our applications.
Attain and provide an expert knowledge level of our application suite.
Performs other related duties and tasks as necessary or as assigned.
Coordinating work in multiple time zones and countries with potential of changing own schedule as needed.
Must be adept at working with various cultures.
Grow personally and have fun.
Required Job Skills: 

To perform this job successfully, an individual must be able to perform each essential duty satisfactorily. The requirements listed below are representative of the knowledge, skill and/or ability required.
 Experience in Radio Frequency Identification (RFID), Data Collection, IOT industry is must.
Must have extensive experience with asset tracking and inventory business processes, such as – but not limited to, inventory cycle counting, asset life cycles, supply chain logistics.
Ability to organize, manage, and track multiple detailed tasks and requests with frequently changing priorities.
Ability to master understanding of product functionality and objectives.
Ability to identify potential product needs based on support requests.
Ability to provide training.
Ability to recognize trends in the type and nature of the support issues and communicate these trends via reports to management.
Have extensive mobile and/or cloud-based client application design, implementation and/or development experience.
Experienced with both licensed software applications as well as hosted/managed software applications (including Software as a Service).
Energetic, inspiring, self-driven, hard-working, results-oriented and solution-minded!!
Must enjoy working with customers and being driven by customer expectations.
Must possess outstanding written and verbal communication skills in English language 
Must have strong analytical and problem-solving skills.
Experience: 
Minimum 5 to 7 years' experience in software design, development, product management and/or related software/ hardware solution implementation experience.
Education:
Bachelors in engineering and or related.
Inside Sales (Concord, CA)
Location
: Concord, California
Job Type
: Full-time
RFID4U is seeking an experienced and accomplished Inside Sales Representative with a measurable and proven track record of solutions selling over the phone and web to businesses. Experience and knowledge of RFID (Radio Frequency Identification) or barcode products  is a plus.
Qualifications

AA, Bachelor Degree preferred.
At least 1 year of working experience in inside sales.
Work experience in RFID and barcode identification industry is a plus.
Sales and negotiation experience.
Excellent oral and written communication skills are required in order to make the client experience a success.
Independent and team player.
Organized, assertive and resourceful individual.
Proficiency in Microsoft Office and Excel
Responsibilities: 

• Educating both current and prospective customers on all available products, uses, and pertinent technical information
• Qualifying customers/projects and recommending RFID/AIT products based on project scope or requirements.
• Managed In-coming sales enquiries and prepare sales quotation when necessary.
• Calling and maintaining relationships with existing customers through telephone and email.
• Managing all customer accounts with a high level of care and professionalism.
• Qualifying customers/ projects and recommends products based on project requirements.
• Record the progress of all sales pipeline opportunities and translate into a monthly report, including source of business trends, open quotations, and maintaining sales
forecast data integrity and accuracy and other reports as directed by the management.
HTML Developer (Indialand SEZ, Coimbatore, Tamil Nadu)
Key skills:
  HTML, HTML5, CSS, bootstrap, JavaScript, jQuery, angular js

Experience: 1 – 3 years
Location: Indialand SEZ, Coimbatore, Tamil Nadu 
Job Type: Full-time

We are looking for an outstanding HTML Developer to be responsible for the coding, innovative design and layout of our web applications.
Requirement: 
Proven working experience in web programming
Top-notch programming skills and in-depth knowledge of modern HTML/CSS
Fair understanding of JavaScript programming and DOM manipulation
A solid understanding of how web applications work including security, session management, and best development practices
Basic knowledge of Search Engine Optimization process
Ability to work and thrive in a fast-paced environment, learn rapidly and master diverse web technologies and techniques.
Responsibilities: 
Create website layout/user interface by using standard HTML/CSS practices
Integrate data from various back-end services and databases
Gather and refine specifications and requirements based on technical needs
Be responsible for maintaining, expanding, and scaling our site
Stay plugged into emerging technologies/industry trends and apply them into operations and activities
Cooperate with web designers to match visual design intent
Key skills Include: Analysis, logical thinking, teamwork and attention to detail.
C# / .NET Software Developer (Indialand SEZ, Coimbatore, Tamil Nadu)
Key skills:
   C#, MVC, MSSQL, HTML, CSS, bootstrap, JavaScript, jQuery

Experience: 1 – 3 years
Location: Indialand SEZ, Coimbatore, Tamil Nadu 
Job Type: Full-time

This job is all about developing software that helps our clients to improve organization agility. You will be part of a high performing team that designs and implements the software that helps key stakeholder job easier and increase work life quality. You should have a passion for technology and software development. Attention to detail and an analytical mind are essential. 
Requirement: 
1+ years software development or programming experience
Strong knowledge in OOPS concept
Experience with .NET framework, Asp.Net, C# and Web Services 
Ability to develop applications using the MVC Design Pattern is an added advantage
Understanding of HTML5, Jquery, JSON and Javascript knowledge are must. 
Working knowledge of SQL
Responsibilities: 
Design & build reusable, scalable and reliable code
Ensure the best possible performance, quality and responsiveness of the applications
Exploring new technology trends and implementing best practices
Key skills Include: Analysis, logical thinking, teamwork and attention to detail.
Data Scientist (Indialand SEZ, Coimbatore, Tamil Nadu)
Key skills
:  Deep Learning, Machine Learning, Packaging, Mathematics, Data Visualization, Statistics
Experience: 1 – 3 years
Location: Indialand SEZ, Coimbatore, Tamil Nadu 
Job Type: Full-time

We are looking for a Data Scientist who will support our product, sales, leadership and marketing teams with insights gained from analyzing company data. You should have strong experience using a variety of data mining/data analysis methods, using a variety of data tools, building and implementing models, using/creating algorithms and creating/running simulations. You should have a passion for discovering solutions hidden in large data sets and working with stakeholders to improve business outcomes.
Requirement: 
1+ years software development or programming experience
Strong problem solving skills with an emphasis on product development.
Knowledge of a variety of machine learning techniques (clustering, decision tree learning, artificial neural networks, etc.) and their real-world advantages/drawbacks.
A drive to learn and master new technologies and techniques.
Experience querying databases and using statistical computer languages.
Responsibilities: 
Develop custom data models and algorithms to apply to data sets.
Use predictive modeling to increase and optimize customer experiences, revenue generation, ad targeting and other business outcomes.
Mine and analyze data from company databases to drive optimization and improvement of product development, marketing techniques and business strategies.
Key skills Include:  Ability to extract and analyze information, good communication, persuasion and sensitivity.
Test Analyst (Indialand SEZ, Coimbatore, Tamil Nadu)
Key skills
:  Selenium c#, Nunit, Automation Testing, Functional Testing, Manual Testing

Experience: 1 – 3 years
Location: Indialand SEZ, Coimbatore, Tamil Nadu 
Job Type: Full-time

We are looking for an experienced and passionate Software Test Analyst to join our team. As a Test Analyst at our company, you will have the opportunity to work on new and exciting projects and develop your career. 
Requirement: 
1+ years of experience as a Software Tester or similar role
Ability to handle multiple tasks simultaneously
Selenium c# experience preferred
Ability to work in a fast paced environment with minimal supervision
Sense of ownership and pride in your performance and its impact on company's success
Critical thinker and problem-solving skills
Team player
Good time-management skills
Great interpersonal and communication skills
Responsibilities: 
Analyzing user stories/use cases/requirements for validity and feasibility
Collaborate closely with other team members and departments
Execute all levels of testing (System, Integration, and Regression)
Design and develop automation scripts when needed
Detect and track software defects and inconsistencies
Provide timely solutions
Apply quality engineering principals throughout the Agile product lifecycle
Provide support and documentation
Key skills Include:  Attention to detail, creativity, organization, analytical and investigative thinking, and communication.
iOS Developer, 2-4 Years Experience (Indialand SEZ, Coimbatore, Tamil Nadu)
Experience
: 2- 4 years
Location
: Indialand SEZ, Coimbatore, Tamil Nadu
Job Type
: Full-time, Permanent
Details: 
2 to 3 years experience developing software in Objective-c
2+ years object oriented programming experience or equivalent education
Experience in an iterative software development environments (Agile)
Experience with Test-Driven development, continuous integration and other Agile methodologies
Good experience in using Apple's XCode for software development
Experience in standard debugging techniques such as logging, LLDB, and/or instruments to localize and correct software defects
Understanding of common design patterns including Model-View-Controller.
Hands on experience using smartphones and tablets preferably iPhone and iPad
Strong understanding of ARC as it relates to Memory Management including the concepts of strong vs weak.
Ability to design, develop, support new and existing applications and perform unit testing and integration testing.
Software Developer, 2-4 Years Experience (Indialand SEZ, Coimbatore, Tamil Nadu)
Experience
: 2- 4 years
Location
: Indialand SEZ, Coimbatore, Tamil Nadu
Job Type
: Full-time, Permanent
Details: 
2 to 3 years of advanced analytics development experience required
Working experience in developing solutions using ASP.Net MVC, C#, angular and MS SQL
Proficient with source code management system, continuous integration
Troubleshooting experience
Work directly with agile application development to provide daily support aligned with a model of planned releases
Experience in Data Modelling and Visualization
Experience in web based software development and software deployment processes
Excellent oral and written communication 
Self confident, strong problem solving and logical thinking
Responsible for meeting deadlines and adherence to set coding standards
Android Developer, 2-4 Years Experience (Indialand SEZ, Coimbatore, Tamil Nadu)
Experience
: 2- 4 years
Location
: Indialand SEZ, Coimbatore, Tamil Nadu
Job Type
: Full-time, Permanent
Details: 
A thorough knowledge on Software design, design patterns and object oriented concepts.
Good experience in Java, Android SDK and SOAP, Gradle
Work experience with REST, JSON, Agile, Analytics, GIT Flow, Firebase, Android ecosystem
understanding of large and complex code bases, including API design techniques to help keep them clean and maintainable.
Writing code in standard design patterns
Knowledge of multithreading and memory management specific to mobile devices.
Should be worked on BLE hardwood implementation
Unit test code for robustness, including edge cases, usability and general reliability.
Excellent communication skills.