Automate your RFID Tag Testing
Using the right RFID tag for your project is essential to having a well-functioning RFID system. With countless options for RFID tags available, TagMatiks Tag Tester provides the ability automate and efficiently test RFID tags for your application.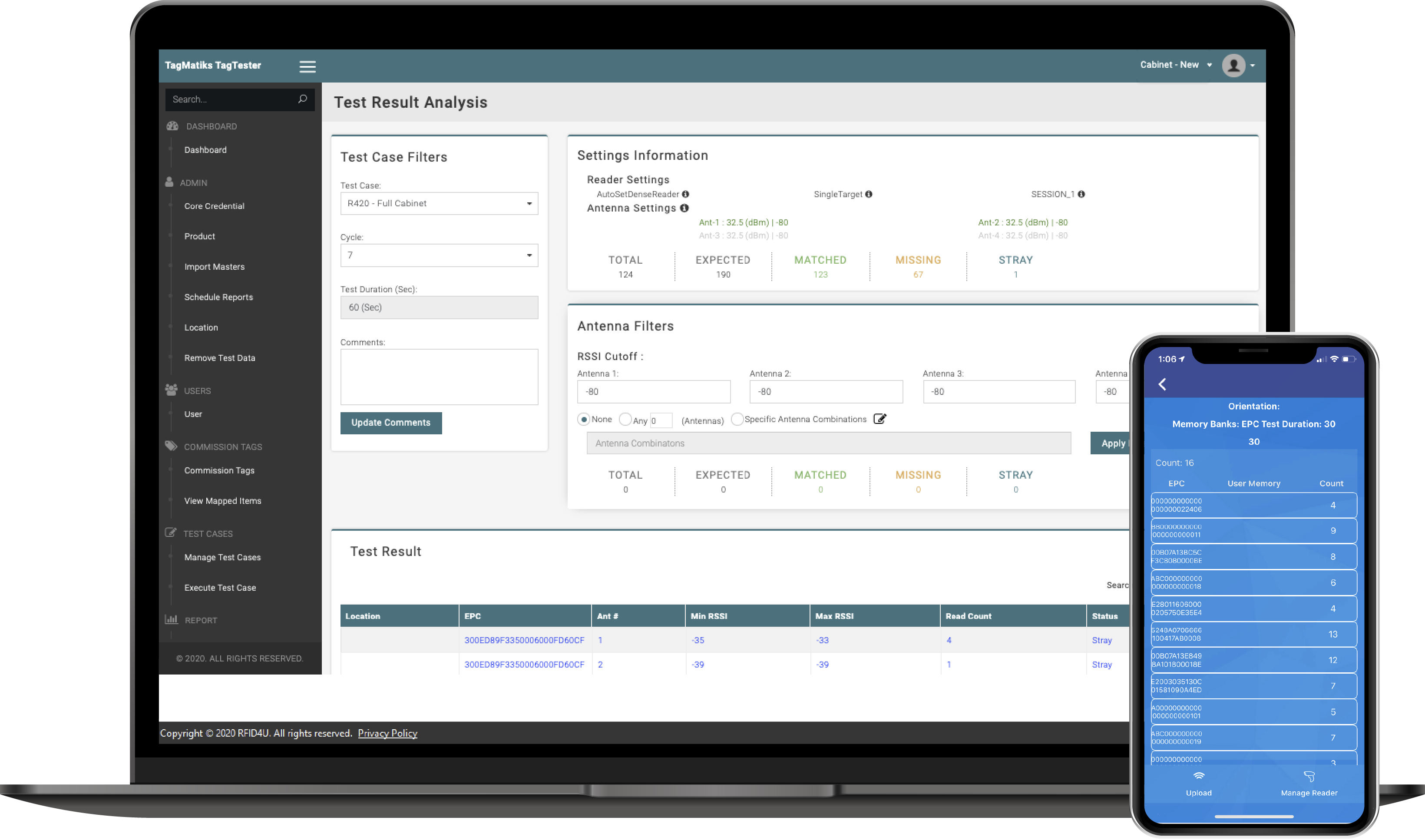 Features & Benefits
WHY TAGMATIKS TT
Generate Test Cases
Use the in-built test case generator to design cases for each possible condition. Use variables like distance, time and tag placement or RF settings like RF power, RSSI, session, mode, and more to go through various conditions.
Automate Testing
Execute test cases based on your business needs. Use the simplified workflows to automate traditionally manual tasks. Take it a step further and document your findings directly within the application.
Analyze Data
TagMatiks Tag Tester features a visualization tool to see head to head performance of tag tester. Take advantage of countless out of the box reports and even an executive summary to showcase your results.
Unbeatable Device Support
TagMatiks Tag Tester includes out of the box support for a wide variety of RFID readers and handhelds. Please contact us for the latest list of supported devices.
Configurable To Your Needs
Bring in application related fields that are relevant to your use case. For example, if you testing RFID tags for pallets you may use fields like description, number of products, product type, etc.
Take It A Step Further
TagMatiks Tag Tester isn't limited to testing RFID tags for use cases. It can be used to optimize the performance of an overall system and be used to benchmark RFID hardware like readers, antennas and handhelds as well.
Why Is Testing RFID Tags Important?
Frequently Asked Questions
How is TagMatiks Tag Tester licensed?
TagMatiks Tag Tester is not offered as a standalone product. Instead, it's used by our team for providing services including state of art testing, reporting and analytics for RFID tagged items read performance ( RFID tag selection and placement), RFID reader benchmarking and site surveys.
What applications is TagMatiks Tag Tester designed for?
TagMatiks Tag Tester can be used to test RFID tags for most applications as its focus is on the RFID tags and hardware rather than the use case.
Can TagMatiks Tag Tester be used with fixed readers?
Yes, TagMatiks Tag Tester can be used with fixed RFID readers.
Why should RFID tags be tested before starting a project?
There are a lot of options for RFID tags and you want to ensure you pick the best one for your application. Choosing the wrong tag can lead to a non-performing system and is usually very costly to replace.
What fields can be used within the software?
TagMatiks Tag Tester allows you to define your own fields to associate RFID tags with so you can see relevant information for your application.
Can one RFID device be tested against another?
Yes, you can use Tag Tester to run test cases for one RFID device against another.