TagMatiks Asset Tracking
TAGMATIKS AT
TagMatiks AT is a cloud-based asset tracking platform that leverages various AIDC technologies for data collection and analysis. The technologies include RFID, Barcodes and more. TagMatiks AT improves the asset tracking process and eliminates the manual entry errors using RFID or Barcode technologies. It keeps track of full life cycle (Receiving to Consumed / Disposed) of your assets including scheduled maintenance or repair.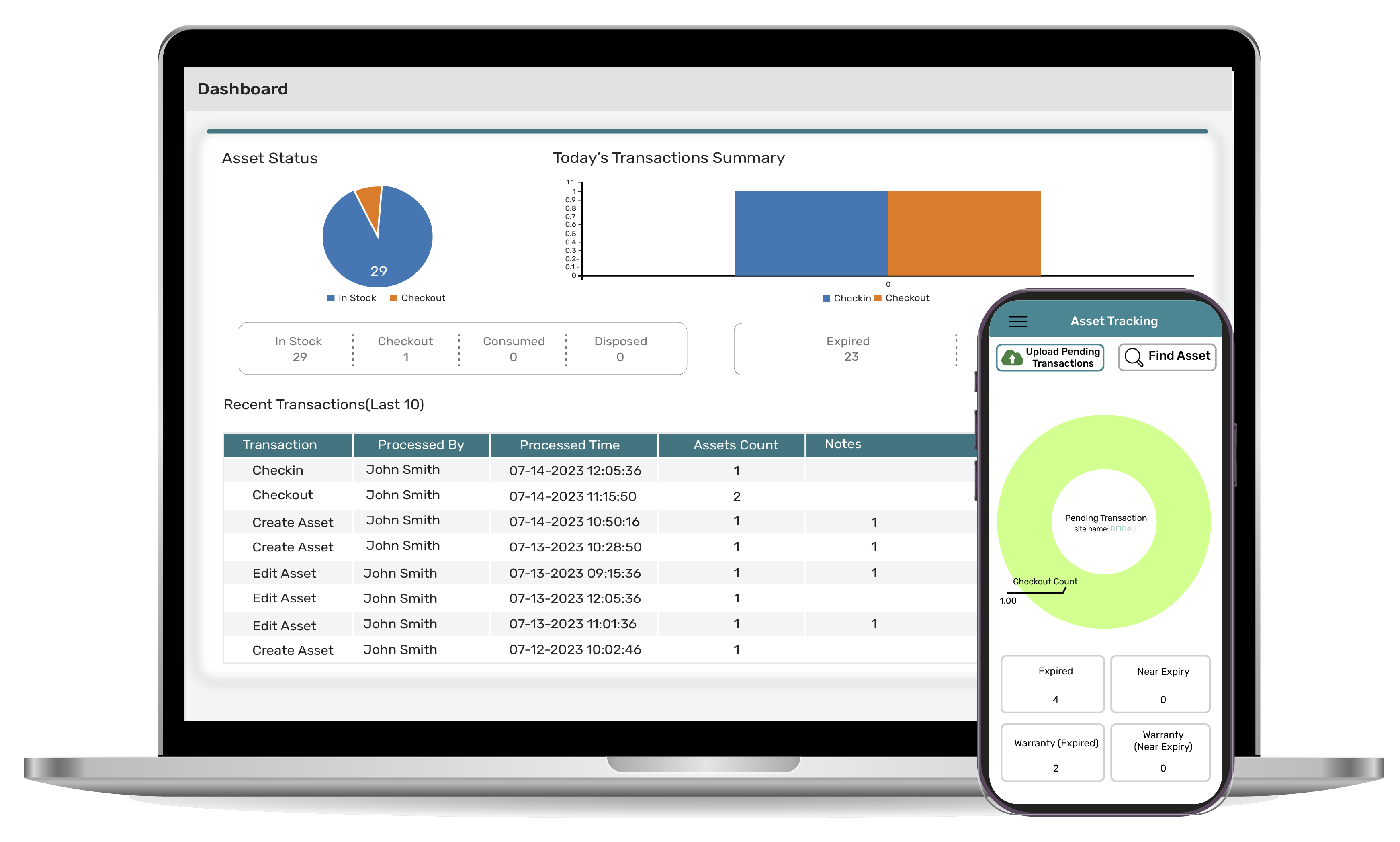 Features & Benefits
WHY TAGMATIKS AT
HIGHLY CONFIGURABLE
TagMatiks AT can be easily configured for tracking assets in healthcare, manufacturing, oil & gas and more. It includes a wide variety of out of the box fields but can be easily configured for any asset tracking use case with support for extensive custom fields.
Anywhere, Anytime
Designed for the cloud, use TagMatiks AT with most web browsers. The solution also includes mobile applications that can be used in offline mode when connectivity may be not available.
RFID & Sensor Support
End to end support for RFID and other sensory technologies to keep track of asset. The solution supports both fixed and handheld RFID readers.
Audits & Cycle Counts
Use TagMatiks AT to automate your asset audits and cycle counts. With an in built inventory feature, use RFID handhelds to quickly capture assets for each location and see variances on the spot. The solution includes a reconciliation feature to document exceptions and understand why things aren't where they are supposed to be located.
RFID Tagging Options
Support for a wide variety of options to associate your RFID tags to your assets including pre-printed tags, options to print your own as well as an association module.
Optimized Workflows
Cutdown on operational time and automate workflows like check-in / checkout, transfers and write-offs with RFID.
Asset Management
Use the repair and maintenance module to log key information. Visualize the history of an asset using the Asset Trail feature.
Reports & Analytics
With countless out of the box reports, make better business decisions with real data. Take it a step further and design your own reports or use the report scheduler to share key data to those who need it.
SOLUTIONS USING TAGMATIKS ASSET TRACKING
Applications with TagMatiks AT
Explore applications where TagMatiks AT is being used for asset tracking and management.
Explore TagMatiks AT
Use TagMatiks Asset Tracking and RFID technology to optimize your RFID asset tracking initiative.
Frequently Asked Questions
How can I download the TagMatiks AT mobile applications?
The mobile applications can be downloaded directly from the Apple App Store or Google Play Store.
What RFID hardware is supported by TagMatiks AT?
TagMatiks AT is available for use with a wide variety of RFID readers, handhelds and printers. Please contact us for the latest list of supported devices.
What is the difference between TagMatiks AT and TagMatiks AT Lite?
TagMatiks AT is an enterprise solution and include both a cloud based portal as well as mobility applications. It includes extensive analytics and reporting features. On the other hand, TagMatiks AT Lite is an all-in-one application designed to make it easy to start an RFID based asset tracking project.
Why should I use RFID for asset tracking?
RFID technology is great for asset tracking as it not only provides serialization but makes is easier to quickly count and manage the locations of assets.
Can TagMatiks AT be used with my ERP (Enterprise Resource Planning) software?
Yes, TagMatiks AT includes out of the box connectors for various ERPs as well as integration points through APIs.