TagMatiks Field Inventory
TagMatiks FI
TagMatiks FI is a cloud-based asset tracking platform that leverages various AIDC technologies for data collection and analysis. The technologies include RFID, Barcodes, Beacons and more. Through the data collection as well as a wide variety of field operations, users can easily manage their field inventory. The platform also enables users to pinpoint assets globally through various dashboards and visualize a full history of the item.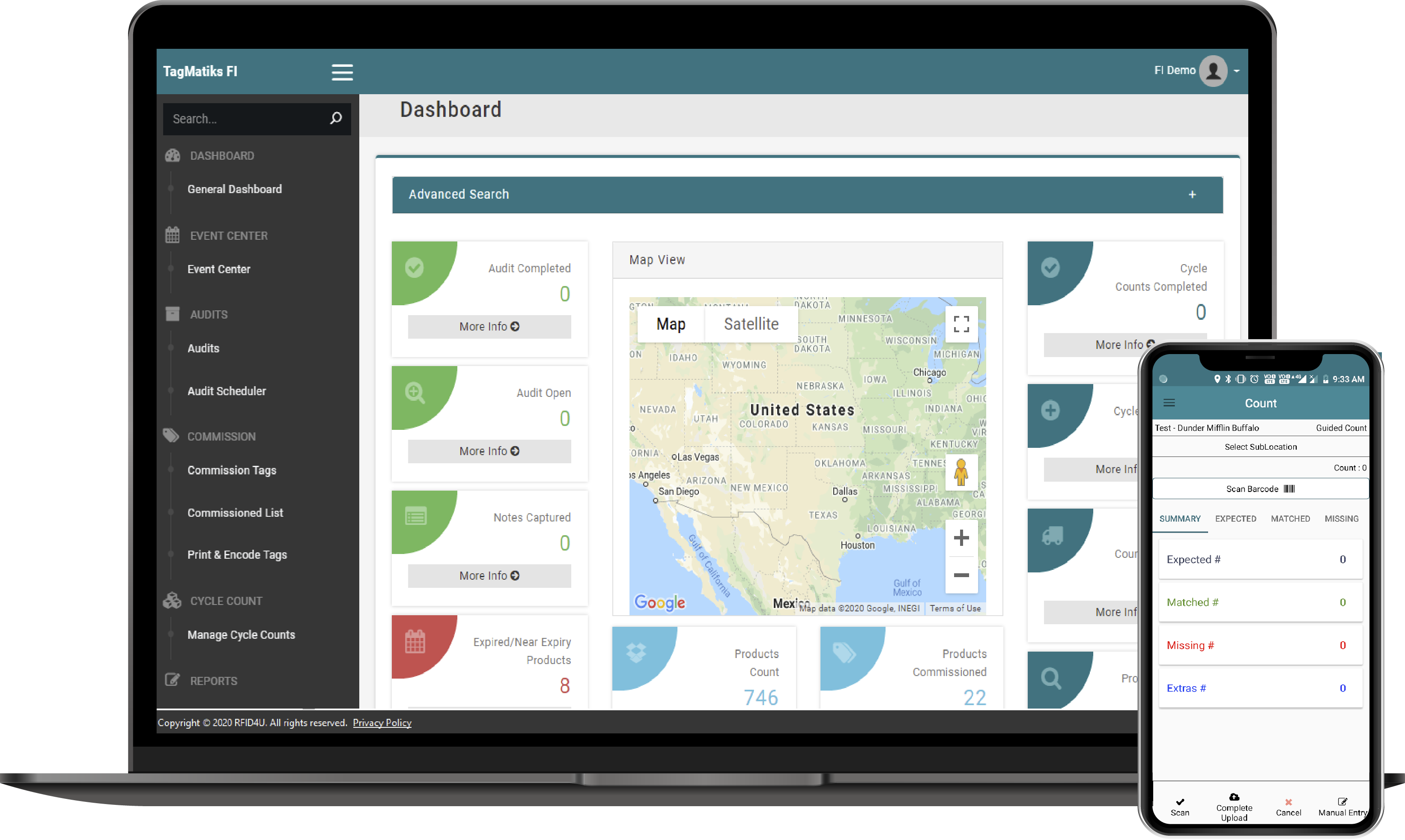 Benefits of TagMatiks FI
WHY TAGMATIKS FI
Quickly Count Your Inventory
Counting your inventory physically can be daunting and a time-consuming process. Traditional challenges when counting field inventory include: 
Time required to count inventory.
Inaccuracy of counts.
Cost of counting.
Infrequency of data capture.
Disruption to operations.
TagMatiks FI overcomes those challenges as counts can be quickly conducted using RFID. Locations that used to take hours or even days will now take minutes. At the time of counting, the user is able to view relevant fields to the associated assets such as product numbers, serial numbers, descriptions and more. Users also have the option of adding line item notes as well as photographs at the time of counting.
In addition, the platform also has the following features to assist users and further provide visibility of field inventory:
Offline mode counting — count without network connectivity and upload later.
Capture GPS coordinates on an item level.
Capture sub-location on an item level.
Instant Reconciliation
Knowing your variances is important to make correct business decisions. After counting your physical inventory, quickly compare your expected inventory against your actual counts using FI's reconciliation module.
TagMatiks FI provides a multiple of options to reconcile including:
Importing inventory snapshots through flat files and APIs.
Compare against another cycle count.
Directly import from system of record.
Through the reconciliation module, TagMatiks FI will automatically calculate matched, missing and extra assets for that specific location in the form of a variance report which can easily be exported in various formats.
For missing and extra items, there is an ability to justify based on configurable reason codes for variances which are logged for against the asset trail for that asset.
Expiry Management
Complete Visibility to Near Expiry and Expired Assets on both the mobile and cloud level.
Extensive Data Analysis
With various modules and methods of capturing data in TagMatiks FI through different data collections methods (RFID, Barcodes, Photographs and Entry), there is an extensive amount of data points being captured.
With this new found data and TagMatiks FI, there is not only increased visibility, but also the ability to do extensive data analysis through various methods.
TagMatiks FI stores an extensive log of known as the Asset Trail which provides the ability view full historical information for an asset from the asset's inception.
Modular Deployments
The platform is modular and provides the ability for quick customization as required.
Robust Notifications
Leverage the Event Center to notifications about all activity occurring across the platform.
Conduct Field Operations
In addition to cycle counts and audits, TagMatiks FI has the ability to conduct various field inventory operations including:
Transfers
Returns
In Field Commissioning
Marking Items as Consumed
Customizable Reports
Design your own reports with extensive data fields and schedule them to send automatically as frequently as needed.
Frequently Asked Questions
What data does TagMatiks FI collect?
TagMatiks FI collects RFID, barcode and positioning data.
What business problems does TagMatiks FI address?
TagMatiks FI is designed to improvement the management of field and consignment inventory for key industries such as healthcare, oil & gas and more.
Can TagMatiks FI be used with by ERP?
Yes, although TagMatiks FI can be used as an independent solution, it is often times used in conjunction with an ERP such as SAP, Oracle or Infor.
How does TagMatiks FI work in locations that are hard to have connection?
TagMatiks FI mobile applications can be used in offline mode so users can collect data and upload later.
Can TagMatiks FI be used with RFID cabinets?
Yes, TagMatiks FI can be used with smart structures such as RFID cabinets.