Explore / RFID Basics & Resources
How to Select a Correct RFID Tag – Passive vs. Active
RFID tags come in many different designs, shapes, and sizes. A tag is designed for a particular application or a set of applications. Tags may be classified under four categories, depending on how the tags obtain power, the frequency at which they operate, the protocol used, and the various functionalities implemented on the tags. Let's discuss tag types based on their power source.
A tag requires power to process signals received from the interrogator and to send the data encoded signals back to the interrogator. Signals sent back may be reflected signals or signals generated by the tag. Depending on how tags obtain the power and how they use that power, tags are classified as:
• Passive tags
• Semi-passive tags
• Active tags
PASSIVE TAGS
A passive tag does not have its own power source; it has no battery onboard. The tag obtains power from radio waves received from the interrogator. The amount of power thus received is very small, just enough to energize its IC. Therefore, passive tag functionalities are limited. Due to a lack of enough power, it cannot support an active transmitter to communicate with the interrogator. The good thing about the lack of transmitter, however, is that passive tags do not contribute to radio noise. To communicate with the interrogator, passive tags operating at low and high frequencies use inductive coupling, while those operating above a high frequency range use radiative coupling. (See Dig Deep – Inductive and Backscatter Coupling [link to page]). Inductively coupled tags have a read range of a few inches to about 2 feet, while radiatively coupled tags have read range of around 20 feet (sometimes more).
When a passive tag is not in an interrogation zone (IZ), which is the case most of the time, it has no power and does nothing. Due to this, the passive tag cannot contain any kind of sensors that require continuous power, such as temperature and pressure sensors. The passive tag typically has a minimum functionality of carrying and transmitting a small amount of data. It is a simple and inexpensive device compared to active and semi-passive tags.
In RFID applications, passive RFID tags are used often. They are often embedded into adhesive labels, which are easy and quick to attach, or sometimes into object themselves. Because of their low cost, passive tags are well suited in applications for which tags are not reusable. For example, in a supply chain, a case of goods may have passive tags attached to it; when the items are removed from the case and the case is discarded, the tags are also discarded. This makes economic sense due to the low cost of the passive tag.
The following table lists some of advantages and disadvantages of passive tags.
ADVANTAGES
Small size
Lightweight
Inexpensive (depends on quantity)
Does not add to radio noise
Longer life (20-plus years)
Resistance to harsh environment
DISADVANTAGES
Requires presence of interrogator to work
Limited amount data storage
Require higher power interrogators
Low read range (few inches to 20 feet)
Note: A low read range might be considered an advantage or a disadvantage, depending on a tag's application. When a tag is used for credit card or for access control card, a low read range is an advantage, because you do not want somebody to be able to read your personal card from 20 feet away. However, when used in a supply chain to tag a pallet, a low read range is a disadvantage because it is difficult and dangerous for a forklift to pass repeatedly very close to the interrogator antenna. Due to the recent hype about using RFID tags in a supply chain, where longer read range is an advantage, and due to the general mentality that bigger is better, people usually consider a low read range a disadvantage. To stay in synch with the RFID industry, this book also assumes that a lower read range is a disadvantage, but it also points out where a longer read range can be a disadvantage.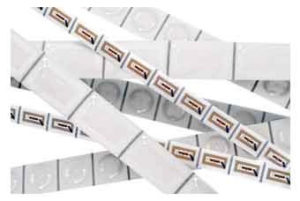 UPM Raflatac Passive RFID Tags
SEMI-PASSIVE TAGS
Semi-passive tags are also called semi-active, battery-assisted passive (BAP), or battery-assisted tags (BATs). This tag has an onboard battery to power its IC, but, like a passive tag, it does not have an active transmitter. It uses backscatter to communicate with the interrogator. It modulates the reflection of the waves from the interrogator and requires an interrogator to send data. Since no transmitter is present, it also does not contribute to radio noise. This type of tag is used because it can provide a longer read range than passive tag and can accommodate environmental sensors onboard. The sensor on the tag helps record the environmental experience of the object to which the tag is attached.
You may wonder why the semi-passive tag includes a battery. First, the battery provides power to the IC so the tag does not depend on the interrogator to power it. The forward link is used to provide power to the tag and to communicate with the tag, and it has a smaller range than the return link. The return link, which includes a round trip from interrogator to tag and back to interrogator, still has a longer range than the forward link. This means that the limiting factor for a read range of a passive tag is how far away from the antenna a tag can be powered, not how far away from the antenna the signals can be decoded. With that in mind, if we provide a battery to power the IC, we can extend the read range of the passive tag. Therefore, by slightly modifying the passive tag to accept the power from onboard battery, we can increase its read range.
The second reason to have a battery on the tag is to attach an environmental sensor to the tag. Environmental sensors require reliable continuous power to operate, and they require a higher power level than the tag IC. The passive tag cannot have reliable and continuous power because it gets power only when it is in the IZ, which is not the case most of the time. In addition, when it gets the power inside the IZ, it is very limited—not enough to power an onboard sensor. Therefore, if a battery is added to the tag, the sensors and the tag IC can use that power, which is available all the time. The sensors on the tag can collect data and transmit that data along with the identifying number when the tag is interrogated. This is a valuable prospect, because, for example, it allows you to collect the temperature experience of the object automatically as the object moves around during its lifecycle. Therefore, when a case of temperature-sensitive drugs is transported, you can collect a record of how long the case was subjected to the temperatures beyond certain set limits and dynamically calculate its expiry date or its potency. Frozen food storage conditions can be easily monitored using this type of tag. Temperature, pressure, relative humidity, acceleration, vibration, motion, altitude, and chemical sensors can all be placed on a tag.
The extra functionalities of an on-tag battery do not come without cost, however. The battery creates a few problems, such as extra weight, larger size, higher cost, shorter life, and temperature sensitivity. An integrated battery means the tag dies when the battery dies, and a replaceable battery means larger size and weight for the battery compartment.
How do you know when a battery is drained? The interrogator can never detect a tag that does not respond. If the object with the tag is sitting outdoors in below-freezing temperatures, the battery may not work and the tag will not respond. Batteries on tags have a typical maximum shelf life of 2 to 7 years, but when tags are used and interrogated frequently, the batteries can quickly be depleted.
The following table lists some of advantages and disadvantages of semi-passive tags.
ADVANTAGES
Longer read range (100-plus feet)
Reduced power from interrogators
Can have more memory, store more data
May contain environmental sensors
Does not add to radio noise
DISADVANTAGES
Sensitive to harsh environment
Limited battery life (2 to 7 years)
Costs a bit more than passive tags
Larger size and weight
Requires presence of interrogator to work
You may also ask, "Why not put an active transmitter on semi-passive tags?" An active transmitter requires a lot more electronics on the tags as well as a lager power source. This would make the tags bigger, heavier, and costlier. If you need to acquire data only when the tags are in the IZ, why pay for the extra functionality?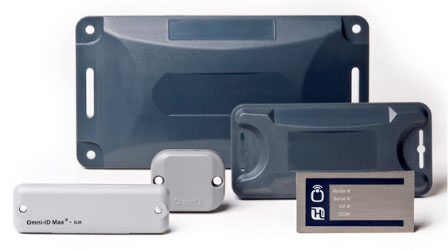 Omni-ID Semi-passive RFID Tags
ACTIVE TAGS
An active tag has an onboard power source, usually a battery, and an active transmitter. The IC of this tag may contain more processing power to implement additional functionalities such as data manipulation. This tag uses the battery to power its IC and transmitter. It does not need emitted power or radio signals from the interrogator to transmit its data. Actually, it does not even need an interrogator. An active tag may be set to broadcast (beacon) its data at a preset time, periodically, or on occurrence of certain event. Its typical read range is 300 to 750 feet. The read range depends on the battery power and type of transmitter on the tag. An active tag, like a semi-passive tag, may have onboard sensors or external sensors connected to it. With more processing power, the tag may collect data from the sensors and locally process the data before broadcasting. Active tags are often used by real time location systems (RTLS).
An active tag can communicate with other active tags with or without the presence of an interrogator. It does not communicate with passive or semi-passive tags. An active tag can be designed to broadcast its data using broadband or spread-spectrum technologies to enhance its data communication performance. It can be set to a sleep mode in which it uses only a small amount of power and does not transmit data. When it receives a specific signal, it awakens and transmits its data. This reduces the power usage from the battery and extends battery life. Some active tags work at two different frequencies. At the lower of the two frequencies, they work in receive only mode and use this mode to receive a signal from a nearby transmitter. This signal awakens the tag, and then the tag transmits its data at higher frequency and longer range. During this transmission, it may also transmit the identity of the device that awakened it. This is typically used within a large container yard where you want to track the movement of the container from one zone to another. The tag may also be set to transmit a periodic beacon to let an interrogator know of its existence or send the signal when moved or handled. It can even send a low battery alert. The US Department of Defense has been using this type of tag for many years.
The advantages and disadvantages of active tags are similar to those of semi-passive tags and are listed in the following table:
ADVANTAGES
Can have more memory, store more data
Can have more memory, store more data
Reduced power from interrogators
Longer read range (100-plus feet)
DISADVANTAGES
Contributes to radio noise
Sensitive to harsh environment
Limited battery life (2 to 7 years)
Costs more
Larger size and weight
Requires presence of interrogator to work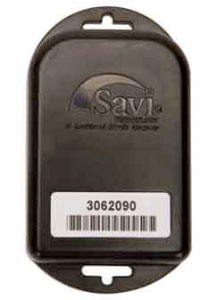 Identec Solutions Active RFID tag with Temperature Sensor