TagMatiks Set Tracking
TagMatiks ST
The TagMatiks ST can manage the entire lifecycle of surgical or medical equipment sets. The solution is designed to leverage RFID technology for quick and simple data collection and easily integrates back to key operational systems. The solution includes key workflows to capture essential inventory data with minimal user inputs.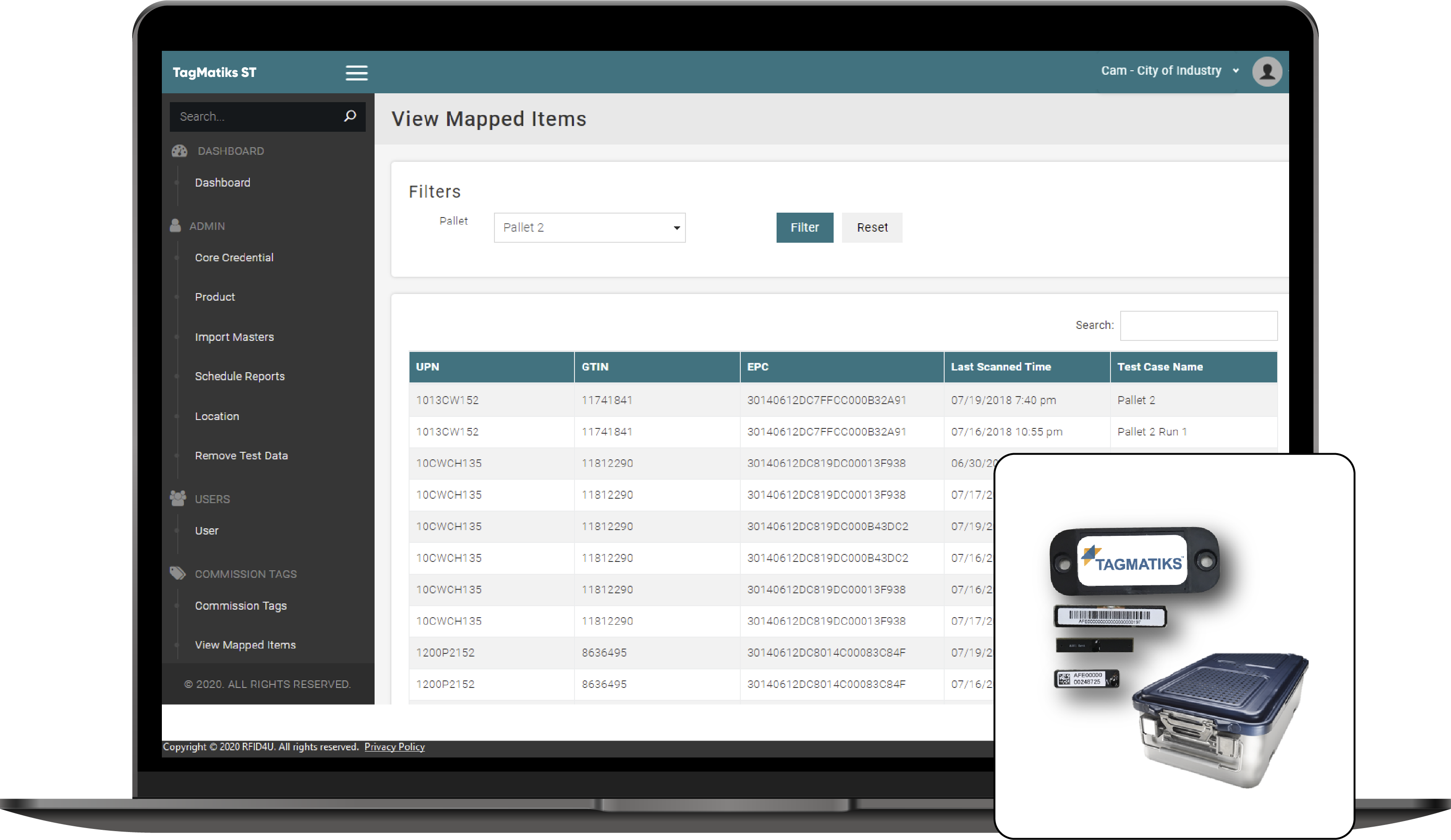 Benefits of TagMatiks ST
WHY TAGMATIKS ST
Extensive Transactions
Leverage configurable workflows for managing the lifecycle for sets including receiving, auditing (primary and secondary), commissioning, put away, replenishment and shipping. These workflows designed to reduce manual steps in the management of surgical sets.
Simple to Integrate
Integrate back to your ERP, WMS or other business systems to take advantage of essential data. TagMatiks ST is currently integrated with systems such as JD Edwards, SAP, Oracle, SalesForce.com and Manhattan ERP.
Designed for RFID
Take advantage of RFID to automate data collection. RFID tags are attached to surgical sets as well as kits. As sets are placed onto smart workstations, the set's information is automatically captured, reducing operator steps. RFID tags can also be placed on sterile packaged goods for improving inventory accuracy.
Advanced Reporting & Analytics
TagMatiks ST includes countless out of the box reports. In addition, take advantage of the report designer to create your own custom reports. Reports can be automatically sent out using the report designer, providing key visibility with the vast amount of data being collected.
Expiry & Lot Management
The solution captures and displays expiry and lot fields for components to ensure that provides that are products being processed aren't expired. In addition, the solution provides the ability for operators to swap out components based on a pre-defined reason list.
Extensive Alerts
Receive critical alerts in regards to operational efficiencies. A key example includes receiving a set that has high priority to processed and providers operators visibility to that event.
Enterprise Driven
TagMatiks ST is designed to be simply integrated back to systems like ERPs, WMS, and other business applications. With extensive support for integrations like APIs and database connectivity, TagMatiks ST bridges your enterprise applications and management of sets and other inventory.
Data Hungry
Architected to harness data, TagMatiks ST uses RFID and other sensory technology to provide extensive insights in regards the management of your sets and other inventory. Feature rich with data analytics and reporting, TagMatiks ST exposes you to key data to better manage the lifecycle of your sets.
Frequently Asked Questions
What's the benefit of RFID?
RFID tags are attached and associated to sets and kits. These RFID tags provide the ability to unique identify each asset very quickly and accurately as the navigate through their lifecycle. Special RFID tags are available that can be autoclaved and attached to sets that go through processing.
What systems can TagMatiks ST Integrate with?
TagMatiks ST can be integrated with systems like JD Edwards, SAP, Oracle, SalesForce.com and Manhattan ERP. In addition, TagMatiks ST can also be configured for Single Sign On (SSO).
How is the RFID Data / Hardware Managed?
TagMatiks ST has a direct integration with TagMatiks Core which is an RFID middleware. TagMatiks Core provides the ability to filter and aggregate RFID data as well as managing and monitoring your RFID infrastructure.  Learn more about TagMatiks Core.
Can I use barcodes with the system?
Yes. TagMatiks ST provides the ability to scan barcodes directly in applications fields. The solution also supports the ability to parse GS1 and HIBCC complaint barcodes.