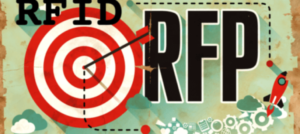 So you have a problem and you think it could be solved by using RFID. Perhaps you have already deployed a barcoding system, which works, but does not provide enough granularity and automated tracking. Or you have already played with some RFID products but they are not quite performing the way you thought they would and you are not sure what to do next. So you approach an RFID company and ask for an RFID solution proposal. You list what you want the system to do, items to be tracked, areas where they will be tracked and systems it needs to interface with. You also list what should be included in the proposal and price, like all the hardware, modification, travel, software development, support, and so on. And now you wait, expecting a flurry of activity on the vendor's side…Only this may not be the best approach.
RFID technology deployment and its performance is VERY dependent on the items tagged and the environment they are tracked in. This is why even the best "dry-designed" system may not work when deployed in real world. In addition, there is no way to even estimate the software solution without assessing your business processes, your real needs and challenges, and designing the hardware solution first.No serious RFID company will provide a proposal based just on your list, without performing the site assessment. And if they do, you can be assured, that the proposed timing, hardware, software and pricing will change, double and triple, after they get to see what they are dealing with. So why go through such an exercise? Why not just do it the right way?
As with adoption or exploration phase of any new technology, it's important for end users and stake holders to get fully aware of potential of technology, its strengths and weaknesses as well common mistakes to avoid. It's also important to do site and workflow analysis to evaluate the best approach to deploy new technology.
Site & Workflow Assessment Services
Current Data Collection System Assessment – Analyze existing environment, identify current and potential problem areas and suggest improvements, which will address the problem areas.
Create a detailed action plan to implement recommended improvements.
This includes:
Time
Cost
Material
Procedures
Training
Software Application
As a deliverable for this Phase, a detailed move-forward plan should be provided that describes how RFID can be deployed to address the current and future needs. The plan should include:
RFID training for end-users and stake holders.
Value Proposition – look at operation and identify what areas could benefit
easily and dramatically from the introduction of RFID (find low-hanging fruit).
Identify Benefactors – Based on identified processes, identify which areas of the operation would benefit from implementation and what intersecting processes should be considered.
Suggest Move-forward Plan – recommend a plan test/pilot RFID on a limited footprint.
The solution design should support scalability in all dimensions:
Functional Scalability
Solution Scalability
Vertical Scalability
Horizontal Scalability
The site assessment provides critical insight that can spell out the difference between a successful and unsuccessful RFID deployment. It will provide crucial information that helps define a wide-variety of deployment variables such as antenna direction and location, power setting, field strength and characterize the electromagnetic environment in the facilities to identify any sources of interference.
A proper site survey constitutes a physical review, analysis, recommendations and report by qualified RFID Engineers of the site where RFID infrastructure and equipment will be installed so that your RFID processes work 100% of the time.
The survey provides a complete understanding of your requirements for an RFID installation for your facility and identifies the feasibility of successfully deploying RFID technology. The engineers will determine optimal locations for the physical installation of your RFID readers and antennae, the number of unique RFID Zones you will need and document integration requirements for systems requiring integration with your RFID network.
Please note, that it is difficult to predict the propagation of radio waves and detect the presence of interfering signals without the use of specialized test equipment. RFID4U uses the latest techniques and equipment like spectrum analyzers to help ensure accurate results and save our clients the time, expense and training needed to acquire and properly use the equipment. We will even tag and read your products under actual conditions to confirm our findings.
The site survey will provide equipment quantity, placement recommendations, product brand recommendations, power considerations, and wiring requirements as they relate to your facility.
Included with each site survey should be a site survey analysis document, detailing the required location for RFID hardware, the type of cabling to be installed and an outline of how the RFID system will integrate into your existing network.
You should receive documentation with detailed recommendations regarding:
Site Requirements,
Estimated Project Schedule,
Statement of Work and Best-Practice Recommendations,
and Site Survey.
To wrap it up, there is always need for a site survey before there can be any proposals and recommendation made. RFID system is not plug and play (and never will be) and there is a lot of things involved in a proper system design and deployment that cannot be done from the comfort of the office without never visiting the site.