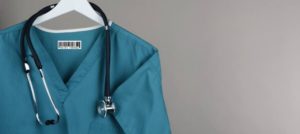 Before RFID took hold on uniform tracking, barcode was the main semi-automated solution for uniform and laundry management systems. Even though RFID provides much more efficient and automated tracking, legacy barcode solutions are still used in many industries such as in hotels for uniform and linen inventory management as well as in commercial dry cleaner facilities. Barcode solutions are a great option for low volume low cost deployments for smaller entities, mainly because the hardware component costs are much lower. The labels are typically less costly than RFID tags and barcode scanners are cheaper than RFID readers.
So how does the barcode solution work? At every point of visibility, the barcode attached to a garment or item has to be manually scanned with a handheld or mounted barcode scanner. The high human handling factor is mainly due to nature of the garments, as the barcodes are usually attached somewhere inside the uniform (so that they are not visible when worn), as well as due to the fabric being draped and folded during processing.
Barcode solutions require upfront investment in equipment for attaching the barcode labels. There are several types of barcode tags used today and each have specific attachment method:
Sew-on Tags

Example of a sew-on barcode label.
These tags are usually made of textile (often polyester) and are printed with the highest quality resin image and offset to provide a sewing flap. Sew-on tags have to accommodate high-resolution printing and resist moisture, abrasion, heat, fading, cracking, dry cleaning, washing, ironing and other solvents. These tags need to be attached either during manufacturing or later on, using a sewing machine.
Sew-on tags with barcodes are the main holders of the Stock Keeping Unit (SKU) of a garment. However, the SKU is not unique as it signifies only the item type and is often placed where scanning is not very convenient. Sometimes the SKU can be used for tracking, especially if you have more than one kind of uniform or linen and you don't need visibility into the individual pieces.
With this type of tracking, you will not know details on wear and tear, issuance, and return of that particular uniform; however, in many cases this is not necessary. On the other hand as these labels are often hidden on garments it may not be convenient to look for them every time an item is scanned. Therefore it may be necessary to attach a new label near the collar or other location where the label is easily accessible and perhaps even visible when the garment is folded.
Iron-on or Heat Seal Tags

Example of heat seal labels.
These are usually made of woven polyester and heat-activated adhesive that bonds well to cottons, polyesters and much more. These labels stand up to washing and drying cycles as well as dry-cleaning.
These labels can be in standard or custom sizes and there are many options for other contents besides the barcode, such as company logo or other text.
The heat seal tags are usually attached using a heat press or hot iron.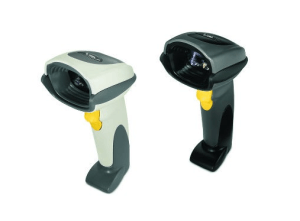 Barcode Scanners
Another main part of the system is the barcode scanner. The most common is a handheld barcode scanner that is connected to a computer or terminal. There are also built-in barcode scanners on conveyors or lines; however, those can be utilized only when the barcode placement is always in the same position and within the line of sight of the scanner.
RFID is the future of uniform and linen tracking and the biggest value proposition comes from the reduction in labor requirements as well as increased read accuracy. Uniforms can be thrown down the chute or into a laundry basket and automatically read in large quantities without human interaction and with near 100% accuracy (as opposed to 80% accuracy with barcode, due to human error).
Note: RFID4U does not endorse any particular brand or standard and is not compensated for mentioning them in this post or other posts. They are simply provided as examples.