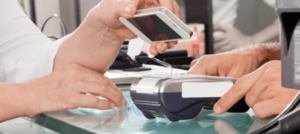 Contactless payments (payments using Near Field Communication (NFC) technology) are payment transactions that do not require a physical connection between the consumer payment device and the physical Point Of Sale (POS) terminal. In the United States, the term "contactless payments" refers to the use of payment products currently supported by American Express® (ExpressPay), MasterCard (MasterCard® PayPass™), and Visa Contactless.
All three products are based on ISO/IEC 14443, which is the international standard for contactless smart chip (NFC) technology. NFC is form of RFID, which is restricted to 2 to 4 inches of read range for the POS terminal vs. traditional RFID tags, where it is desirable to have a much longer read range.  The NFC applications also provide variety of measures to protect the security of the consumer's information and the payment transaction.
According to NFC World and Berg Insight, the research has shown that an estimated 9.5 million of NFC-ready point-of-sale (POS) terminals were shipped worldwide in 2014. Berg Insight further forecasts that the global installed base of NFC-ready POS terminals will grow at a compound annual growth rate of 28.4% from 21.4 million in 2014 to 74.9 million units in 2019.
The highest shipments for NFC-ready POS terminals recorded last year were in Europe and North America, where 80% and 75% respectively of the devices shipped featured NFC. On a global basis, two out of every five POS terminals shipped last year included the technology.
Even though so many NFC ready terminals have been shipped, the technology has not been activated in many cases. However, that is quickly changing especially since the amount of bank institutions, which provide NFC-enabled cards, is quickly growing.
Many businesses aim to use NFC to turn smartphones into "mobile wallets," meaning you would need only your smartphone, not your credit card, to make payments. Some of the major credit card companies, banks and cellular carriers have created an international mobile wallet standards consortium called Isis, later renamed to Softcard that has developed set of standards. However, Softcard recently confirmed its closure as the founding member cellular companies have signed a deal with Google. AT&T Mobility, T-Mobile USA and Verizon Wireless have committed to have Google Wallet pre-installed on their Android phones.
For mobile wallets, no actual card would be needed and a simple app on a mobile device could take over the payment process. Of course, you would need NFC enabled smart phone and currently there are many NFC enabled phones to choose from. For a list of phones, check NFC World+ site that is being frequently updated with new models.
What are the advantages of NFC Retail Points of sale?
Another way to pay (no need to swipe, no need to take card out of the wallet or no need for a card at all) that is more secure and convenient.
Customer does not need to sign or often even enter (and remember) the PIN
For retailers, the NFC technology allows to consolidate, cloud store and authenticate consumer purchase data, including credit card numbers, phone numbers and shipping and billing addresses, for easier access.
The easily accessible data can be used for quicker and more efficient customer service (no need to fill out any shipping details for instance if product is unavailable in the store and will be shipped to your house) as well as advertising.
Any tablet with NFC reader embedded or attached can become a POS terminal on the go.
Incentives and subsidies to retailers from the card issuing companies to implement NFC POS.
A business-specific virtual credit card app could include a loyalty program, coupons, special sales or other marketing programs, and it could connect to your customer relationship management (CRM) or inventory management system.
The NFC card itself can hold a lot more information than typical credit card and is more secure.
Check back soon for the next post that will discuss uses and security of NFC payments.