City Furniture
City Furniture leverages RFID technology to automate inventory management workflows including cycle counting their retail showrooms.
Challenge:
A Florida based retailer, City Furniture provides customers with an expanded and evolutionary lineup of home furnishings at an exceptional value. To ensure that customers find exactly what they need, inventory accuracy is key in the retail showrooms and across the supply chain. The ability to count these inventory items efficiently would provide great benefits and improve overall accuracy.
Solution:
City Furniture adopted RAIN (UHF) RFID for inventory management. As inventory is brought into showrooms, items are tagged with product labeling that has an RFID label embedded inside. These are printed using RFID Printers. The solution features RFID4U's TagMatiks platform which provides various software workflows to simplify inventory management. During regularly scheduled cycle counts, users are able to use RFID handhelds to count inventory, a process which is extremely efficient as opposed to traditional means such as leveraging barcodes or manual counts.
The RFID enabled product labeling also includes a QR code allowing customers to digitally interact with the City Furniture portfolio of products; holistically, providing an immersive experience.
Using the TagMatiks mobile application, City Furniture associates are also able to use the accompanying RFID handhelds to find a specific items by using the "Find" feature, allowing them to spend more time assisting customers.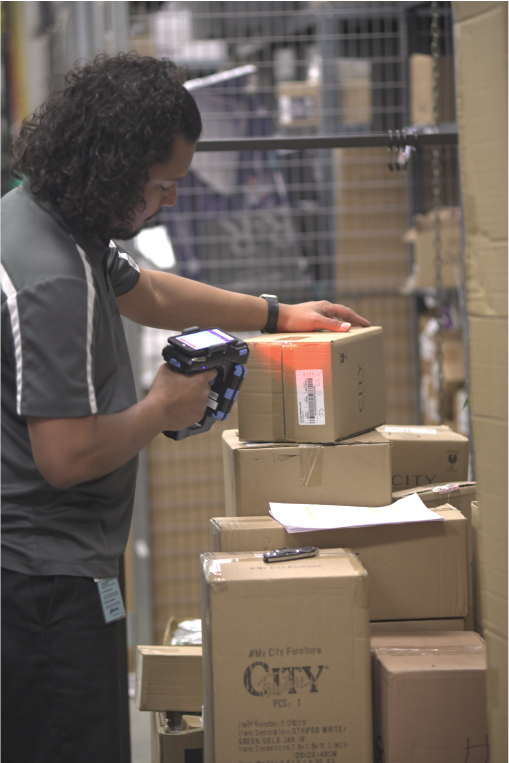 Result:
With the adoption of RFID and leveraging the TagMatiks platform, the traditionally manual process cycle counting is automated. As RFID technology can capture many items in a single scan, the amount of time to collect data during a cycle count is drastically reduced. For example, with barcode, the time to count and verify a typical showroom may be up to 46 man hours but with RFID technology, the time is cut down to 12 to 14 man hours with improved accuracy of counts. With continued use the technology, City Furniture estimates to reduce this time down to 11 man hours. This reduces the counting time to less than a quarter of the previous efforts. During these workflows, users don't also have to find the barcode on the item as RFID technology can work without "line of sight." Given the diversity of items and where labels may need to be located, this is a time saving benefit.
The solution provides a simple yet powerful approach to automate data collection using sensory technologies like RFID and digitize key workflows. Reports can be quickly generated to help make better business decisions. Leveraging cutting edge technologies like RFID and adopting solutions like the TagMatiks platform helps differentiate City Furniture and allows them better serve their customer base.