Summary:
This Article explains initial configuration of the TagMatiks AT Lite application.
Step 1
Menu: ADMIN → Configuration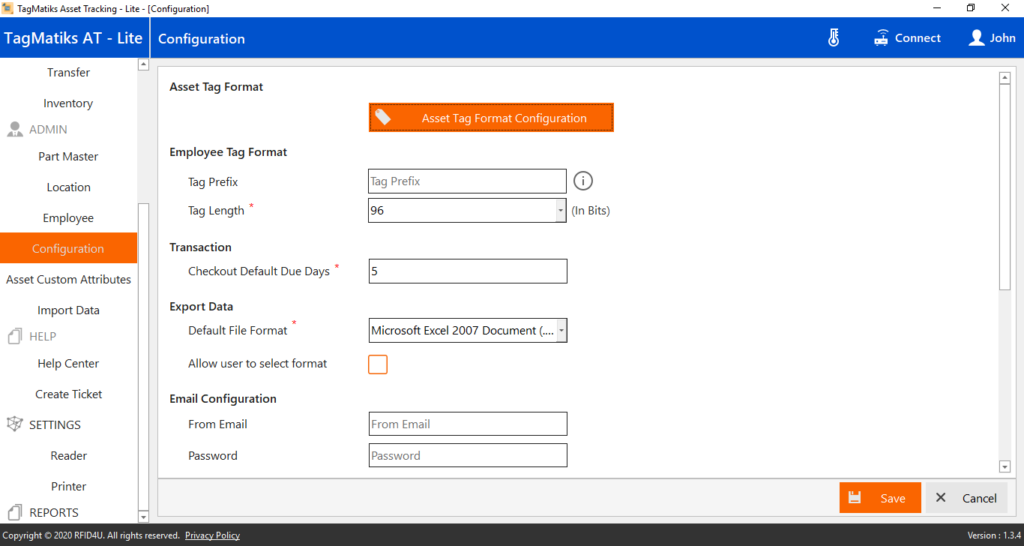 Step 2 – Configuration
In a configuration, Asset Tag Format, Employee Tag Format, Transaction, Export Data can be set based on your use case. Using the Asset Tag Format & Employee Tag Format. Tag Prefix-Filter the RFID / Barcode tags based on a prefix of your choice. This prefix is also used to start a running number when encoding tags when creating an asset. Tag Length -Length of EPC of your RFID Tag if you choose to encode data onto it.
Transactions
Checkout default due days – Set the default number of days an asset would be due back for the Checkout transaction.
Export Data
The user can select a default format when downloading reports, Options include CSV format, PDF, Microsoft Excel Document XLS, Microsoft Excel 2007 Document XLSX.
If you'd like to restrict the options, please select the checkmark as well.
Note:
Certain configurations must be completed to use the software to its fullest extent so be sure to appropriately!